Educational partner

Khalifa University
The merger between the Masdar Institute of Science and Technology (MI), the Petroleum Institute (PI) and the Khalifa University of Science, Technology and Research (KUSTAR) to form the Khalifa University of Science and Technology (KU) was intended to consolidate the resources and infrastructure of three of the most respected academic institutions in the UAE and the Middle East. The resulting unified University reinforces Abu Dhabi's and the UAE's commitment to pursuing the development of world-class research and human capital initiatives.
Technological partner

Dubai Future Foundation
His Highness Sheikh Mohammed Bin Rashid Al Maktoum, Vice President and Prime Minister of the UAE and Ruler of Dubai, said that shaping the future and making it is no longer a theoretical concept but a key factor for countries to achieve competitiveness in the global arena. "The future is not built on possibilities and numbers but on clarity of vision, planning, action and implementation," His Highness stated.
'Dubai Future Foundation' was launched to play a pivotal role in shaping the future of Dubai along aside the launch of Dubai Future Agenda as a roadmap for the Foundation to shape the future of the strategic sectors in the medium and long term in cooperation with government and private sector entities.
Governmental partner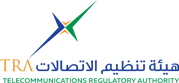 Telecommunications Regulation Authority
The Telecommunications Regulatory Authority (TRA) of the United Arab Emirates (UAE) was established according to the UAE Federal Law by Decree No. 3 of 2003 – Telecom Law, on regulating the telecommunications sector in the UAE. Since its establishment, the TRA has exceeded expectations by achieving its projected goals in record time.
The role of TRA focuses on two fields: regulating the telecommunications sector, and enabling government entities in the field of smart transformation.
Infrastructural / Development partner

Dubai Silicon Oasis
Dubai Silicon Oasis is a globally recognized free zone and an integrated technology park that allows people to live, work, and play. Hosting modern technology based industries and an urban master-planned community in an iconic location, DSO offers state-of-the-art infrastructure and in-house business services.
Knowledge partner
TU-Automotive
TU-Automotive (formerly Telematics Update) – For nearly two decades, TU-Automotive has developed the most robust events portfolio in the automotive technology space, which has brought together the largest and most respected decision makers in the industry. TU-Automotive events cover all aspects of the market, from connected and autonomous vehicles to the emerging technologies that are shaping the future of automotive technology. TU-Automotive also publishes news and editorial, serving as the reference point and communications hub for the evolving automotive technology segment as it converges with consumer electronics, mobile and IoT to re-define connectivity, mobility and autonomous use-cases. Find out more.